Dental Implants in Richardson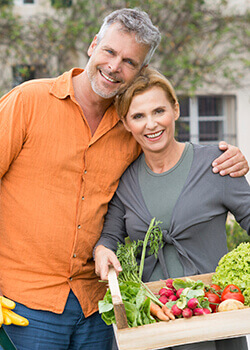 Most traditional tooth replacement options restore only the visible portions of patients' smiles, but like an iceberg, there is a substantial and necessary part of the tooth below the surface. The root structure of teeth not only provides necessary support, but also offers stimulation for the retention and development of healthy jawbone and supportive alveolar bone tissue. Additionally, it provides support for gum tissue, helping the face retain its natural volume and shape. Dental implants are the only tooth replacement option that restores the entire tooth – roots and all – and offers a more natural looking and feeling result. Studies that compared the comfort and range of chewing ability of traditional denture wearers to those with implant supported dentures revealed that patients with implant dentures experienced less irritation, sores, and bruising of the gums caused by pressure from dentures. They also may experience up to a 70% renewal of chewing ability!
While dental implants aren't the right option for every patient, the significant oral health benefits associated with this option make it one of the best restorative dentistry services available. Dental implants are extremely versatile, replacing any number of missing teeth from a single tooth to a full arch.
Implant Restorations
Once patients have completed their dental implant placement, there will be a period of time during which soft tissue heals and supportive alveolar bone fuses with the implant post. This fusion between the post and supportive tissues is referred to as osseointegration, and it's what makes dental implants so successful. The process usually takes around four months. Once we have placed the prosthetic tooth or teeth, we'll work with patients to ensure the fit feels and looks natural, and that their bite is comfortable and does not place excess strain on the jaw. In some cases, it takes patients time to get used to the way the restoration looks and feels. We welcome patients to return to our office if they still feel uncomfortable after a one to two week adjustment period. We'll work with you to get your restoration just right.
Implant Supported Dentures
Traditional, removable dentures are a trusted and predictable tooth replacement solution for those patients missing all of their teeth on one or both arches. Dentists and patients are still able to rely on these time-tested smile restorations, but for those patients interested in increased stability and longer lasting results, implant supported dentures may be a better option. For full arch, we offer removable implant supported dentures; patients who have had a denture often prefer the familiarity of having a removable dental prosthetic, coupled with the added stability of implant supported dentures.