Richardson Preventive Dentistry Services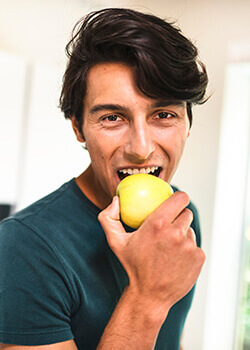 Keeping natural smiles healthy and beautiful for life is one of our main goals for patients at Brick Row Dentistry. That starts with regular preventive checkups twice a year, education about the best practices in at-home hygiene, and most importantly, a team of people who truly care about our patients. Our practice focuses on preventive dentistry to ensure patients achieve their optimal level of oral health. We invite patients from Addison and other nearby communities to contact our team and schedule an appointment. Keep reading to find out more about preventive dentistry services.
Dental Checkups & Professional Teeth Cleanings
Dental checkups and teeth cleanings every six months are essential. They give us the opportunity to familiarize ourselves with patients' oral health. Checkups at Brick Row Dentistry have four main components:
Diagnostics – using state-of-the-art digital X-rays, our team captures high definition scans, revealing the inner workings of patient's smiles and potential oral health issues like wear, breaks, and decay. Digital X-rays expose patients to up to 90% less radiation compared with traditional X-rays and are easily viewed, transferred, stored, and compared from year to year.
Examination – Dr. Minh Nguyen performs a thorough tooth by tooth examination of smiles, screening for tooth decay, gum disease (including periodontal charting), alignment issues, bruxism (teeth grinding and clenching), temporomandibular joint (TMJ) dysfunction, visual oral cancer, and more.
Cleaning – we'll carefully remove plaque and bacteria from even the most difficult to access areas of patients' smiles, as well as provide demonstrations and education on the best practices in at-home hygiene. Our team will make recommendations for oral hygiene products and answer questions.
Consultation – patients will review the results of their diagnostics and examination one and one with Dr. Nguyen. He will answer your questions, make recommendations, and work in close partnership with patients to create a personalized treatment plan.
Periodontal Therapy
Periodontal (gum) disease affects more than 50% of US adults over the age of 30, and the best way to combat its detrimental effects is to diagnose the disease in its earliest stages. During every six month checkup, our team completes periodontal charting to look for early indications of gum disease. By measuring the depth of the pocket between teeth and gums every six months, we see changes early and can begin treatment at the stage when the damage of gum disease can be reversed.
Children's Dentistry
We welcome whole families at our Richardson practice! Kids need to visit the dentist twice a year just like adults in order to maintain oral health, but they're also a number of treatment options specifically catered to developing smiles, including fluoride treatments to fortify tooth enamel and dental sealants to prevent cavities by blocking out decay-causing bacteria. Our knowledgeable team also offers wisdom tooth evaluation and extraction. Our team is experienced working with young children, and we are able to handle their unique dental care and behavioral needs.
Nightguards for TMJ & Bruxism Treatment
If you experience pain, discomfort, or difficulty opening and closing your mouth, you may be suffering from TMJ dysfunction. This disorder occurs when excessive strain is placed on the joints connecting the jawbone to the skull. Bruxism is the unconscious grinding and clenching of teeth typically during sleep. Our team crafts comfortable, custom nightguards to reduce stress on the TMJ and relieve associated pain and discomfort.
Dental Sealants
Dental sealants are a thin, clear coat of plastic that creates a solid barrier, blocking out bacteria and plaque to prevent tooth decay. When properly applied and care for, a single application of dental sealant can last up to ten years. Typically recommended for children, this simple treatment is an ideal preventive solution for patients of any age who experience frequent tooth decay (one or more cavities a year) despite adequate at home care and regular checkups. The application is fast, simple, and painless. During a sealant application time, Dr. Nguyen will apply a thin coat of sealant to the at-risk surfaces of teeth. A curing light is applied to the sealant to harden it onto the surface of teeth. Patients are advised not to eat or drink for half an hour after the sealants are placed.
Oral Cancer Screenings
Many patients think that oral cancer only affects smokers, but studies show that 30% or more of oral cancer sufferers do not engage in tobacco use, excessive drinking, or other conditions frequently associated with the disease. The Oral Cancer Foundation reports that early diagnosis and treatment is the best way to reduce the number of oral cancer related deaths annually. Currently, oral cancer claims one life every hour. That's why visual oral cancer screening is also a major part of every dental checkup at Brick Row Dentistry.
Digital X-Rays
Digital radiography is changing the way that we view patients' smiles – literally. Traditional X-rays offered dentists a view of the inner workings of patients' teeth and facial bones, but capturing these images was time consuming, exposed patients to radiation, and offered low resolution images in most cases. Digital X-rays provide higher quality images that are instantly accessible for patient view, education, and treatment planning. Some of the benefits of digital X-rays include:
High definition images are clearer for more accurate diagnosis
Patients may be exposed up to 90% less radiation
Capturing images is quicker and more comfortable for patients
No need to develop images with hazardous chemicals
No need for large amounts of space to store physical X-rays
Easily transferred at the touch of a button for immediate viewing by dentist and patients and convenient sharing with insurance companies and specialists
Easily saved and compared in the future
Athletic Sportsguards
Sportsguards protect teeth from potential damage during athletic events, and while there are a number of varieties available at your local sporting goods store, the best option is a custom crafted oral sportsguard. These guards are created from impressions of your unique bite for optimal comfort, encouraging patients to wear them more consistently.