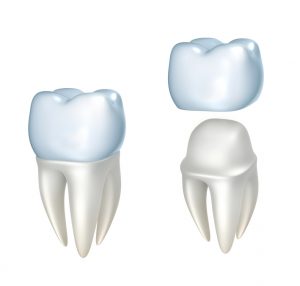 The night couldn't have gone any better. The show at the Eisemann Center was everything you hoped it would be. The music and dance came together seamlessly and lifted each other to new levels. The standing ovation was a forgone conclusion. As a bonus, you even stuck around to talk to some of the performers afterwards, marveling at how normal they look standing in front of you, out of costume. You zip on over to your favorite restaurant and take your first drink to celebrate a fantastic evening. Your joy immediately comes to a halt when you feel pain rush through one of your teeth as the cool beverage slides between them. You've have this dental crown for a little while, should it still be in this sensitive? You've gotten other dental crowns in Richardson before and they didn't feel this sensitive. What's going on?
Should My Dental Crowns Be Sensitive?
Dental crowns are one of the most reliable restorative dental practices today. It uses a combination of your natural tooth structure and a metal or ceramic restoration to fully repair a broken or damaged tooth. Many people feel an increase in sensitivity after the procedure, mostly to cold. Others experience sensitivity when biting or applying pressure to their teeth. This is perfectly normal. The question is how long should this sensitivity last? This is determined by two factors:
How close was the decay/damage to the nerve
How high the crown is placed
If the flaw in the teeth reached the nerve, this would bring about some increased sensitivity. This is because the nerve is being exposed more directly to temperatures or pressure than normal. You may experience sensitivity while the crown is settling over the top of your remaining natural tooth but this should normally subside after about a week.
The placement of the crown is key to the comfort of the patient. If the crown is placed too high, this may lead to increased sensitivity, particularly when biting and chewing. If the sensation isn't overwhelming, it's best to allow about a week to see if it passes naturally.
What If My Crowns Are Sensitive For A While?
If the sensitivity lasts beyond a week, it would be best to schedule a follow-up visit with Dr. Nguyen. A small adjustment in the height of the crown may help relieve the sensitivity. Of course if you are feeling any type of pain, it is best to consult your dentist right away. While a little sensitivity is normal in the week following, don't feel anxious about visiting your dentist if you want them to take another look at your crown. We are here to take care of your dental crowns in Richardson, and we take your feelings very seriously.