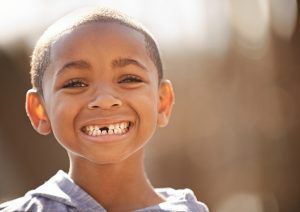 Once upon a time, there was a small child with a loose tooth. His parents were wondering what to tell him. Would he be frightened knowing that the tooth would eventually fall out? Or would he be excited to hear about the Tooth Fairy and his new tooth? To get an idea about what to say to their young son, they called Richardson dentist Dr. Minh Nguyen for advice. Here is what he told them…
The Tooth Fairy is Your Friend
Dr. Nguyen suggests that parents prepare their children for the loss of their first tooth. They may have older brothers or sisters who have lost teeth, so the idea may not be completely new. However, you should still explain why they will lose their baby teeth and how those teeth will be replaced with stronger and bigger teeth. This is also a good time to go over the importance of brushing and flossing every day. After all, with proper care these new teeth should give them reason to smile for the rest of their lives.
When Will The Tooth Fairy Visit?
Most children can expect the Tooth Fairy to visit them for the first time between the ages of five and seven years old. Dr. Nguyen encourages parents to speak positively about the Tooth Fairy and losing baby teeth. The more excitement you can create, the happier and less apprehensive your child will be.
Tooth Fairy Assistance
More often than not the Tooth Fairy needs an assistant before her arrival. Most baby teeth need a little help coming out, meaning you'll probably have to pull the tooth. Here are some tips to make that process easier:
Wait until the tooth is extremely loose
When the tooth wiggles easily, you can then help to pull it
Grasp the tooth with a tissue or a piece of gauze and pull with a quick twist
Of course, Dr. Nguyen and his team are always available to help if there is a stubborn tooth. We don't want your child to be uncomfortable and we certainly don't want to keep the Tooth Fairy waiting!
Taking Care of Young Smiles
Before, during and after your child goes through the process of losing his or her primary teeth, regular dental checkups are essential. Cleanings, exams and other special services such as dental sealants and fluoride treatments are important components of pediatric dental care. Be sure to schedule your children's six-month checkups with Richardson dentist Dr. Nguyen at Brick Row Dentistry
Call the "Dentist Near Me" in Richardson
For more advice on how to prepare your children for losing their baby teeth, or to schedule an appointment, contact Brick Row Dentistry. We're here to help you and the Tooth Fairy make this a happy time for your child.